Contact Us
Head Office & Manufacturing
1200 Stone Church Road East
Hamilton, Ontario L8W 2C7
Call 905-388-7293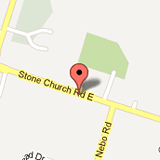 Click For Map
Hamilton Design Studio
Monday 10am - 5pm
Tuesday 10am - 5pm
Wednesday 10am - 5pm
Thursday 10am - 7pm
Friday Closed
Saturday Closed
Sunday 12pm - 5pm
Other times available by appointment.
To schedule a complimentary in-home design consultation and estimate, or to contact one of our designers to discuss your ideas, please complete the form below.Masks are required to enter our facility. You will be provided with a mask if you do not have one.
NOTE: Your e-mail address will only be used to follow-up on your contact request. Your e-mail address will NOT be added to any mailing lists nor will your e-mail address be shared with anyone outside of Hampton Kitchens.
---